TRON processed 10.9 million in daily transactions on Wednesday, setting a new high.
Total transactions on TRON have exceeded 5.7 billion, signaling that the network grows at a steady pace. 
The altcoin plans to upgrade its mainnet and introduce unstaking flexibility by the end of June. 
Justin Sun, the founder of TRON (TRX) – one of the largest decentralized blockchain DAO ecosystems in crypto – shared a new milestone for the token on Thursday. TRON processed 10.9 million in daily transactions, hitting a record high, adding to evidence of increasing activity despite a broader downbeat market sentiment. 
The altcoin's network has grown at a steady pace through the crypto winter, although TRON price continues to lag behind. 
TRON hits new milestone in daily transactions
TRON network has several new upgrades lined up for the mainnet, after hitting key milestones earlier this week. As of Tuesday, the total transactions on TRON exceeded 5.7 billion, signaling increasing network growth and adoption.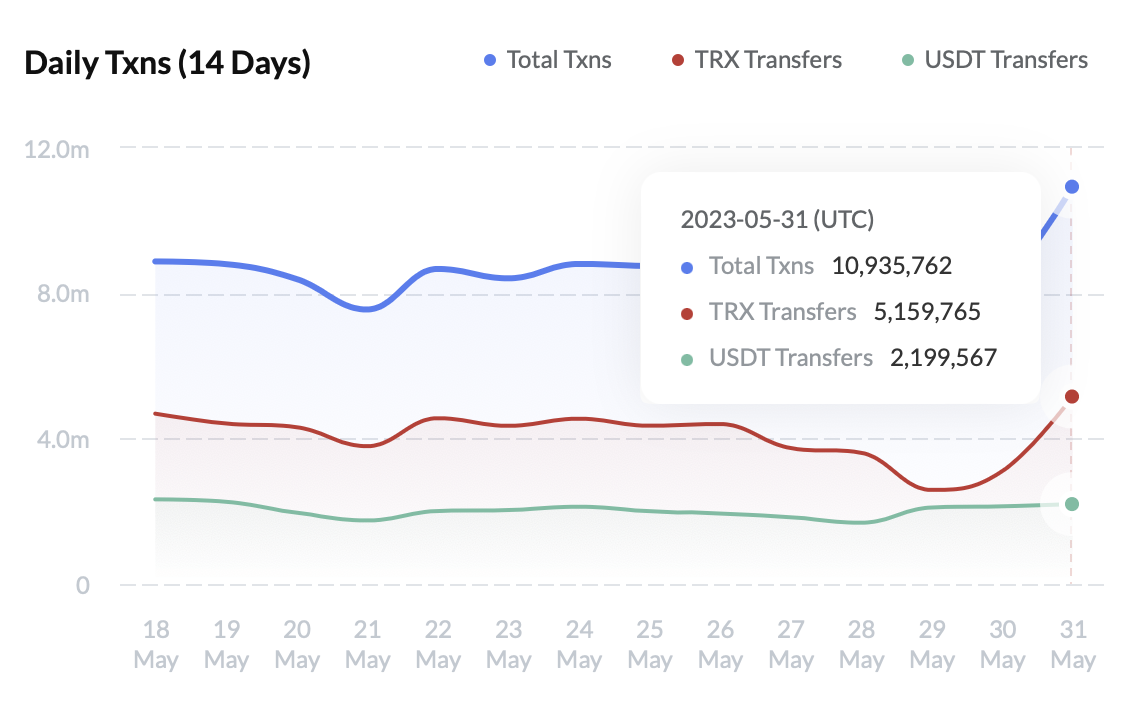 Daily transactions in the TRON network
On Wednesday, daily transactions exceeded 10.9 million, a record high for TRON. The total number of USDT transfers exceeded 2.1 million, according to data from Tronscan. 
Despite the crypto winter, #TRON continues to defy expectations, posting impressive growth. The network hit a new record high in daily transactions just yesterday, with a 10,935,762 transactions processed. pic.twitter.com/Unn45CCUvg

— H.E. Justin Sun 孙宇晨 (@justinsuntron) June 1, 2023
While TRON network hit new milestones in terms of on-chain activity, price is yet to catch up. TRON price climbed from $0.0667 on May 1 to $0.0765 on Wednesday, according to the TRON/USDT one-day price chart from Binance on TradingView. This marks an increase of 14.69%.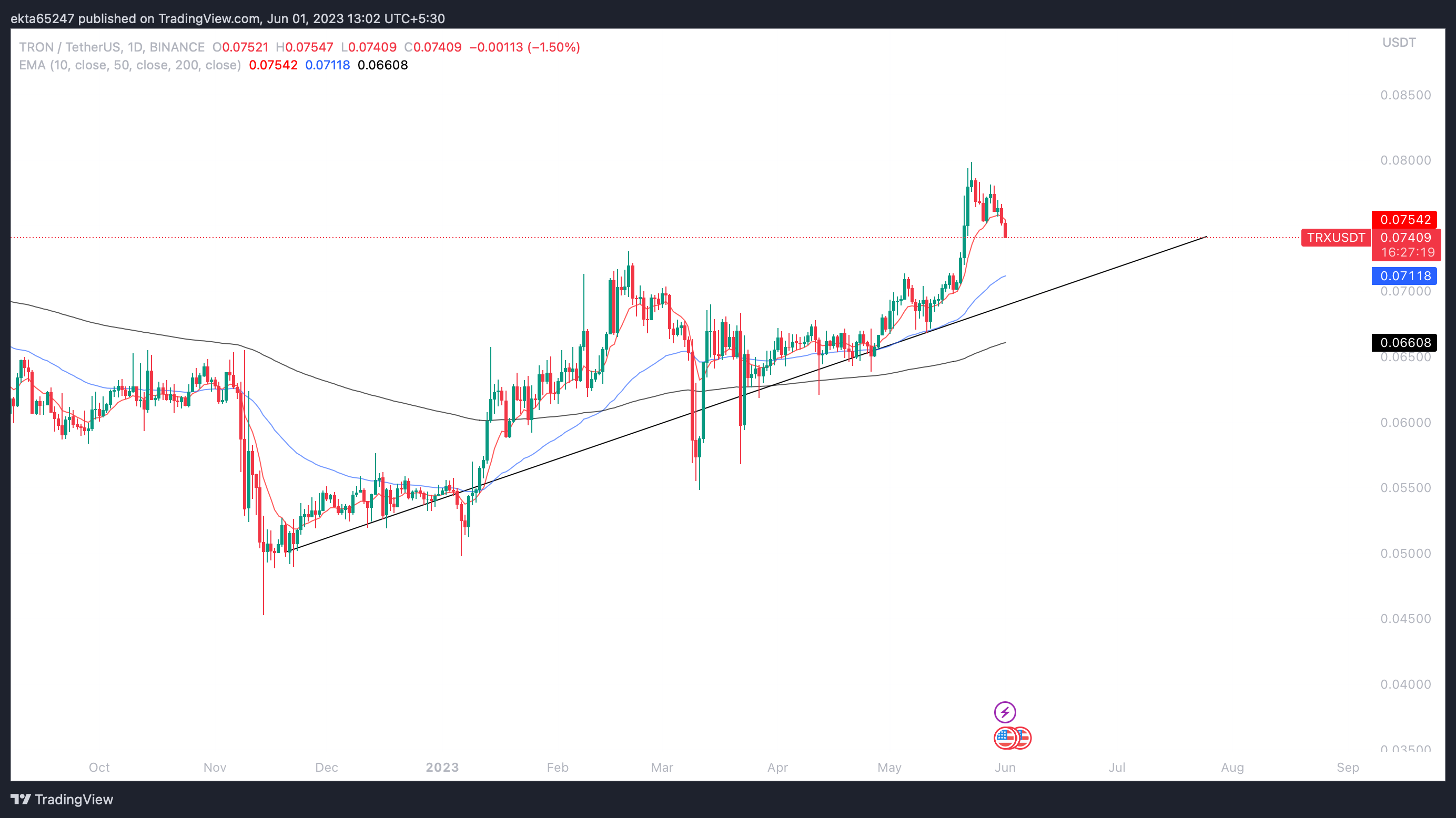 TRON/USDT one-day price chart Binance
However, over the past week, TRON price declined 7%, from $0.0797 on May 23 to $0.0741. The altcoin is currently trading at $0.0740 and needs a bullish catalyst to begin its recovery. 
TRON's developers plan have lined up a mainnet upgrade by the end of June and this is likely to catalyze a recovery in Justin Sun's token. 
🚀The upcoming #TRON Mainnet GreatVoyage-v4.7.2 Periander, featuring:

✅Stake 2.0 unstaking flexibility
✅Improved resource delegation API
✅Adapting to Ethereum Shanghai Upgrade
✅Upgraded energy estimation API
✅P2P network upgrade with Libp2p v2.0.0

— TRON DAO (@trondao) May 30, 2023
The upcoming TRON mainnet update, is known as the GreatVoyage-v4.7.2 Periander, and it features unstaking flexibility, adaptability to the Ethereum Shanghai upgrade, and upgraded energy estimation.