At the end of 2017, prices on the cryptocurrency market peaked. The price of bitcoin (BTC) was then around $ 20,000. Bitcoin and altcoin mining was very profitable at the time, but in 2018 the prices fell enormously and crypto mining became no longer profitable for many smaller miners.
When the crypto winter started in November 2018, the price of bitcoin dropped below $ 4,000 and a growing number of miners threw the towel into the ring. However, according to a new Diar report, it appears that growth in the profit margins for bitcoin mining is once again showing for the first time.
Although only $ 195 million of bitcoin was mined in February 2019, which is a fraction of the $ 951 million in December 2017, and 10% less than in January 2019, there is growth again for the first time. The gross profit margin increased by 7% to 39% in February.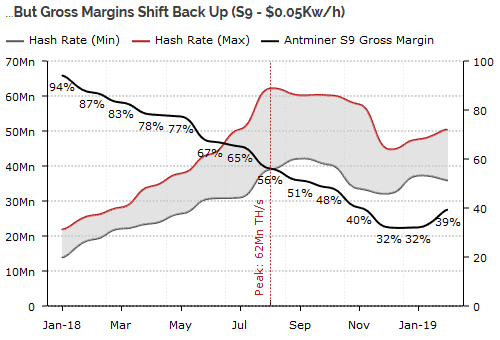 Diar also reports that the new S15 Antminer from Bitmain has been completely sold out twice, which may be a sign of a possibly recovering market. The S15 would average 84% more profit than its predecessor, the S9.
Furthermore, Diar reports that the trade volume of bitcoin fell by 55% in the first two months of 2019 compared to January and February 2018, but that the volume in these first two months is still higher than in 2017 as a whole.
The largest cryptocurrency exchanges have also reached new lows. The trade volume of bitcoin on Coinbase was first under $ 1 billion last month.
By contrast, the volume of trading at Binance has increased enormously over the past year. The exchange now holds more than 50% of the trade volume compared to the other large exchanges.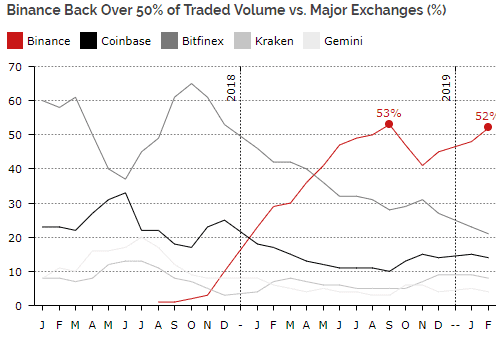 Bitmain announced in January that the company is closing its office in Amsterdam.