Accusations from SEC are not stopping Ripple from seeking new strategic partnerships
Digital payments giant Ripple Inc. has announced an unusual partnership. Amidst developing drama with the SEC lawsuit, the company is going to roll out the first decarbonized blockchain ever together with a well-known technology non-profit.
Zero-carbon blockchain
According to an announcement made by Ripple Inc. on Twitter, the corporation has partnered with Energy Web, a non-profit organization tasked with leveraging the energy sector with blockchain-based solutions. Launched in 2019, Energy Web is building infrastructure for a global electricity network.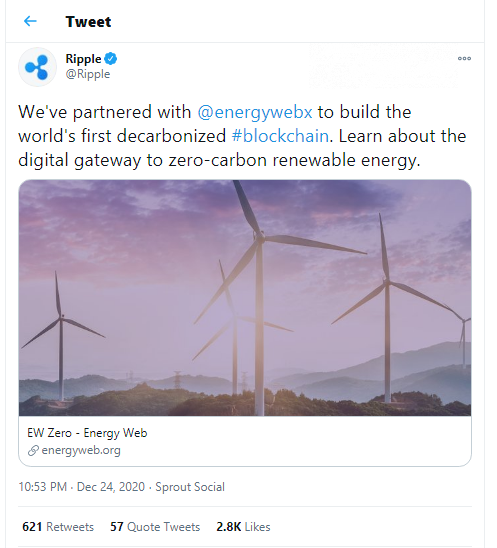 Image via TwitterNo details of the newly announced partnership have been disclosed by Ripple. Meanwhile, it is the first-ever partnership for Energy Web with a top-tier blockchain company.

Energy Web is also developing an open-source software—the Energy Web Decentralized Operating System (EW-DOS)—which includes applications and programming tools for a new-gen energy distribution system.

Solutions by Energy Web are focused on the needs of large-scale grid operators, corporate energy consumers and renewable energy developers.
First partnership in tough days
This collaboration is the first one for Ripple after the U.S. Securities and Exhchange Commision filled a lawsuit against the company and its two key officers, Brad Garlinghouse and Chris Larsen. The company and its two top people are accused of selling unregistered securities to U.S. citizens in the form of XRP tokens.
As CryptoComes reported previously, Ripple's largest partner, Moneygram, publicly stated that it had never transferred users' funds over Ripple's ODL and RippleNet. Thus, the overhyped partnership between Ripple and Moneygram included only the utilization of ODL as a forex platform.
However, Ripple treats the accusations as an "attack on crypto" and has no plans to surrender. The leaders of Ripple Inc. are certain that the company has a good chance to fight the U.S. SEC in court.