Shiba Inu price is down almost 50% since the February 4 high of $0.00001575 and -16% since May started.
SHIB could drop an additional 5% as bears continue overpowering the bulls.
The latest bearishness comes in the wake of community conflicts, stalling SHIB in the consolidation phase.
Accordingly, large transactions are down almost 80% in the last month, while the bid-ask volume imbalance has slumped almost 120%.
Shiba Inu (SHIB) price is trading with a bearish bias as bulls continue to lose ground to the bears. It appears the token burns are not achieving the expected result, given that the meme coin has recorded massive losses since the year started, with more to come as sellers continue to dominate the market. SHIB could soon hit rock bottom before a pullback, although it should not be a surprise if the dog-themed token records another all-time low.
Also Read: New SHIB investors bring deposits to the network but fail to trigger a rise in Shiba Inu price
Shiba Inu price eyes 5% more losses
Shiba Inu (SHIB) price indicates that bears have overpowered bulls for three consecutive months. While many factors have played a role in the previous load-shedding exercises, the latest downtrend is attributed to community conflict after SHIB Token's official Discord was paused on May 30, citing community conflicts. Reportedly, Shiba Inu's fast food chain Welly's Burger sent 37 Ethereum (ETH) to the SHIB Army, but Trophias, a well-known controversial member of the SHIB Defense Breed, intercepted the funds.
The longstanding conflicts continue to hurt Shiba Inu price, delivering SHIB to its three-month low at around $0.00000841. An increase in seller momentum beyond this level could see the meme coin break below the immediate support at $0.00000788 to collect sell-side liquidity below that level.
Notably, the Relative Strength Index supports this thesis given its southward inclination and about to cross below the yellow band (signal line), often interpreted as a sell signal. Traders heeding this call could solidify the downtrend in the meantime.
SHIB/USDT 1-Day Chart
On-chain metrics
On-chain metrics from IntoTheBlock also support the bearish postulation. Specifically, the metrics of the large transactions have dropped by almost 80% since the onset of May, dropping from 92 to 19 between May 6 and May 31. At the same time, the bid-ask volume imbalance has fallen by 118%.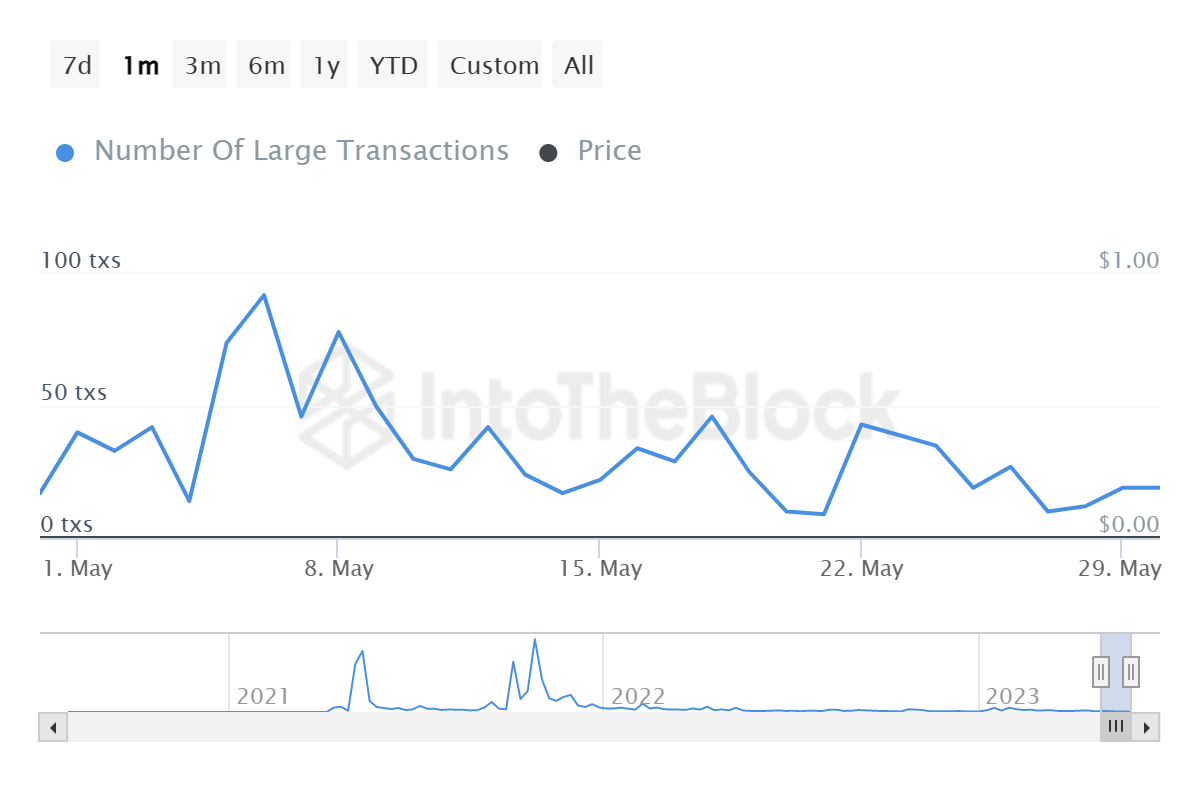 On the other hand, the Shiba Inu price could correct with the right buyer momentum, possibly as traders buy the dip, sidelined investors come in, or the typical smart money buying SHIB in loads to manipulate the market.
Such a move could see Shiba Inu price shatter the downtrend line's resistance at $0.00000900, clearing the path for more gains.