Tether suffered a temporary depeg due to the imbalance in Curve's liquidity pools. 
CTO Paolo Ardoino assured the community of Tether's ability to swap the stablecoin for US Dollars. 
Tether suffered depegs during Terra LUNA collapse and the FTX/Alameda bankruptcy. 
Tether, the largest stablecoin in the crypto ecosystem, suffered on Thursday a drop from its $1 peg due to an imbalance in Curve's liquidity pools, raising concerns about the asset's stability and bringing back memories from tumultuous events like the collapse of sister tokens LUNA, UST and the bankruptcy of crypto exchange FTX and trading firm Alameda Research. 
Tether's Chief Technology Officer, Paolo Ardoino, addressed the uncertainty among USDT holders and assured them that the firm is prepared to swap stablecoins for US Dollars. Ardoino welcomed market participants who wanted to redeem their USDT and exchange it for US Dollars, in a sign that the executive is confident in the stablecoin's solvency despite the increasing selling pressure.
Also read: Top 3 cryptocurrencies defying negative sentiment after Fed's hawkish pause: UNI, ALGO and Terra LUNA Classic
Tether depegs due to imbalance in DeFi liquidity pools
Tether, a stablecoin with a market capitalization of $83.21 billion, dropped below its $1 peg. The asset has been under scrutiny previously as critics say that the firm does not have the reserves to back its USDT issuance.
Tether has attempted to address these concerns by offering assurance reports, audits and increased transparency of its reserves.
With the SEC's regulatory crackdown on crypto, there is mass outflow of capital from altcoins. In this context, Tether and other stablecoins play a crucial role, facilitating the exit for crypto traders.
The recent depeg arises from an imbalance on DeFi liquidity pools on Curve Finance as large wallet investors drop their USDT.
As of Thursday, the Curve 3pool comprises 50% USDT. The sudden spike in USDT in the pool is considered abnormal. Typically, it signals a shift in sentiment among crypto market participants and USDT holders.
Curve Finance's 3pool is composed of USDT, Circle's USDC and Maker's decentralized DAI stablecoin. Each of these assets in the pool are dollar pegged and offer investors arbitrage opportunities between all three assets.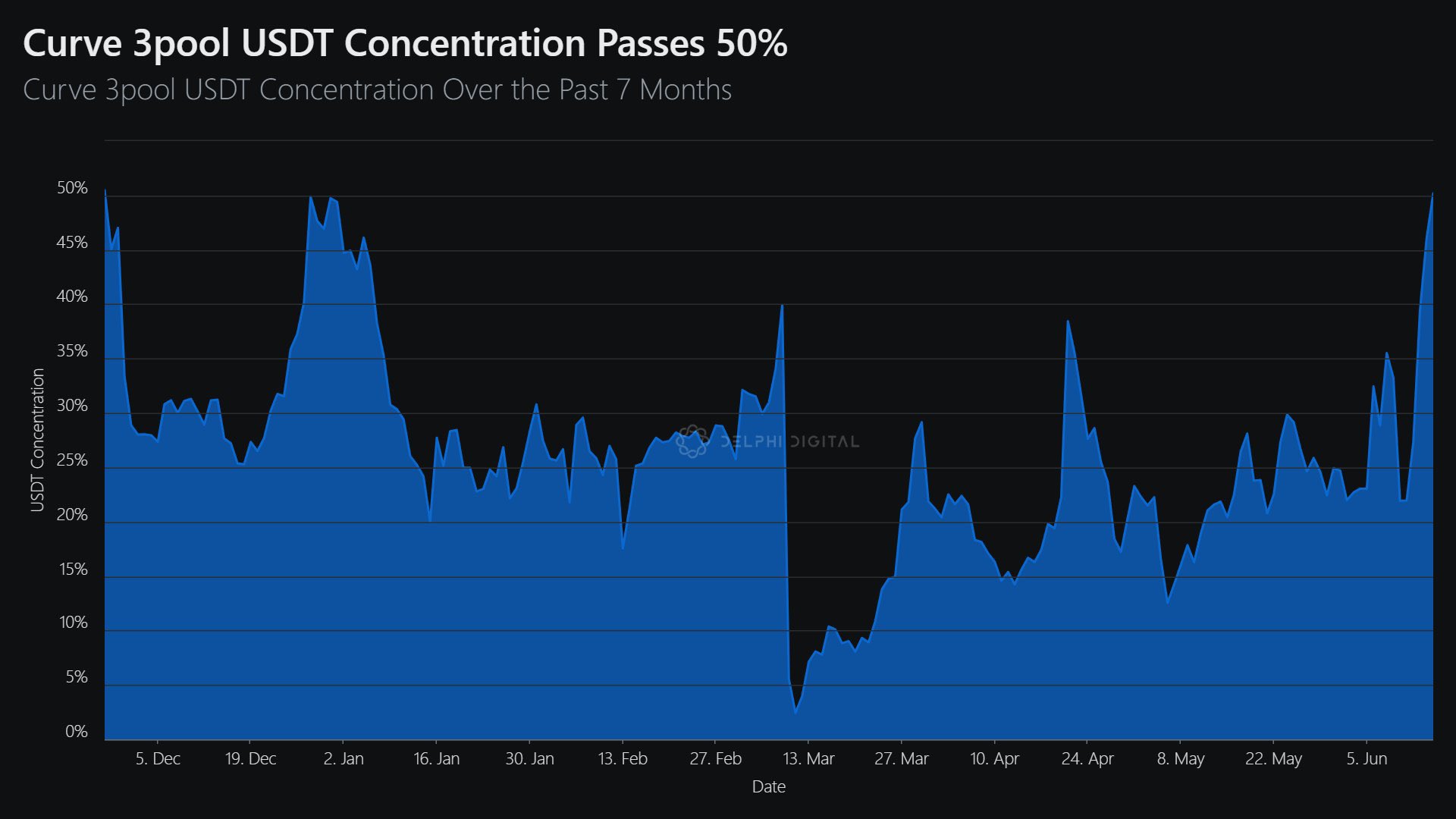 USDT concentration in Curve 3pool
Tether CTO defends the stablecoin's solvency 
Tether's CTO Paolo Ardoino said that the firm is ready to redeem Tether for anyone interested. Ardoino said the firm has the ability to tackle large volume swaps of USDT stablecoin for the underlying US Dollar. 
At the time of writing, Tether is trading at $0.9954, down from its $1 peg.