There's no doubt the XRP cryptocurrency has a dedicated fan base; heck, the cryptocurrency community has fittingly branded supporters of the asset the "XRP Army." But the altcoin has equally as many skeptics who believe the asset is intrinsically worthless, like how some see Bitcoin as an asset really worth $0.
As reported by CryptoSlate previously, one crypto derivatives trader remarked that XRP's macro price chart looks eerily similar to the charts of technology companies that blew up over the past few decades. Referencing the similarities of the charts seen below to that of the cryptocurrency, he remarked:
"Here are just a few of the hundreds of 10-year charts you can find for 'promising tech'. See a similarity? Many of these same charts have forums of people still talking about the recovery to come."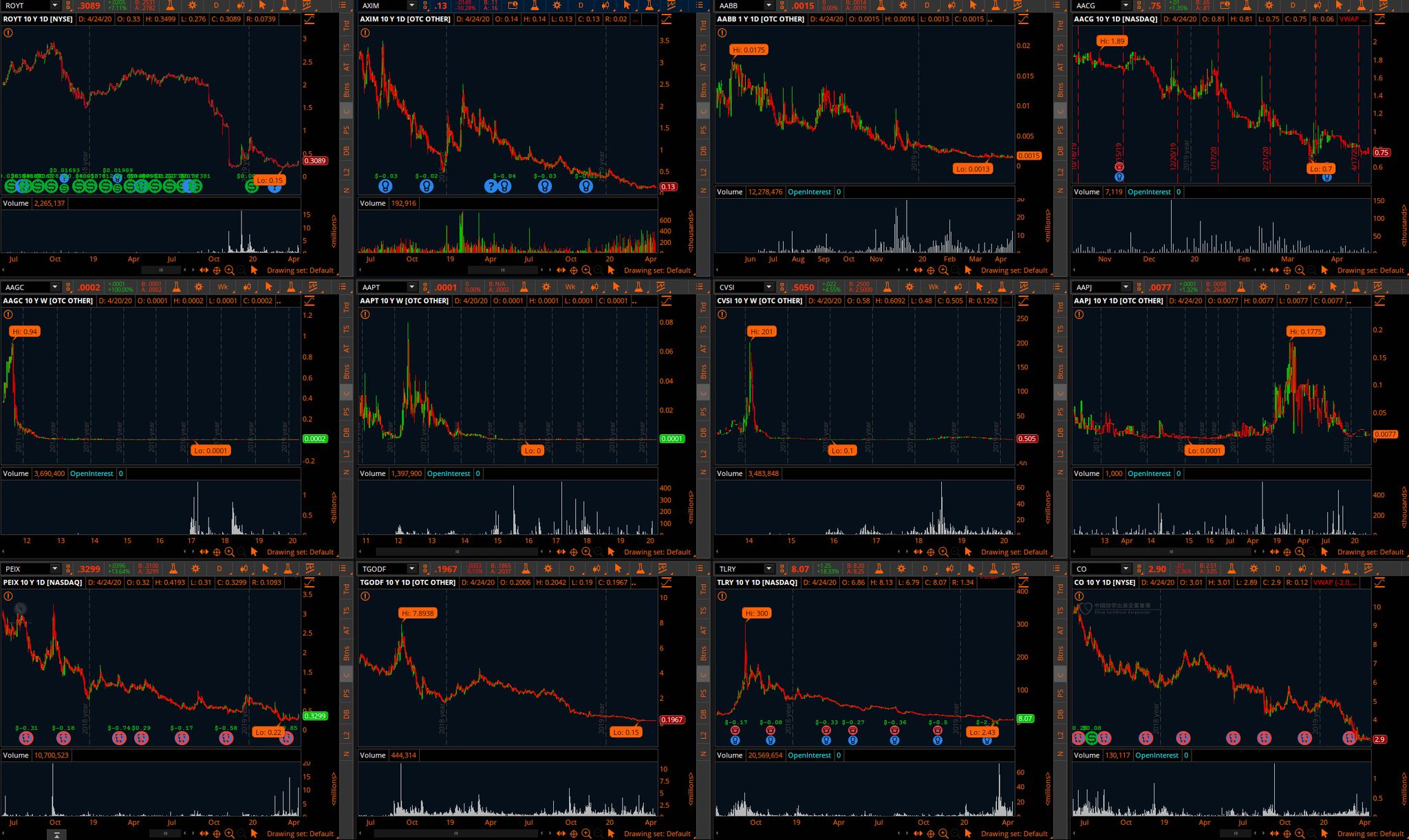 Charts from trader "Cantering Clark"
That's to say, he wouldn't be surprised to see the asset plunge even lower over time, even after falling more than 90 percent from its all-time high.
This was echoed by prominent commodities trader Peter Brandt, who recently remarked that the asset is a "manipulated scam" on its way to $0. (As a pertinent aside, Brandt is a seeming Bitcoin maximalist when it comes to his involvement in crypto.)
But according to an industry investor, there's an explainable reason why XRP is worth $9 billion (market cap as per CoinMarketCap) and may continue to hold that valuation moving forward.
How is XRP still so valuable?
Jason Choi — investor at The Spartan Group and formerly of Bridgewater Associates, the world's largest hedge fund — on Jun. 4 released an extensive Twitter thread on illiquidity in altcoin markets.
While the research focused on small-coin altcoins outside of the top 30 — Choi specifically mentioned Synthetix's SNX, 0x's ZRX, and Kyber Network's KNC —he highlighted how illiquidity and inefficiencies in the altcoin market have affected the valuations of both Litecoin and XRP.
(He personally did not make a comment on the assets, but noted that there are analysts that do have strong opinions.)
Although the criticism may not be warranted, the two cryptocurrencies are often branded as coins that are least deserving to be in the top 10 digital assets by market capitalization.
Choi explained that due to the lack of volume and depth in order books, "funds or whales" may not want to get involved in markets, meaning that price discovery can be catalyzed by smaller market participants. And with such a strong group of retail investors supporting XRP, prices can be relatively high compared to what prominent analysts think its worth.
"Funds or whales don't want to get involved with thinly traded tokens on exchange because of slippage, and if liquidity doesn't pick up they're stuck… I suspect this may also be why while some may think assets like XRP and LTC are overvalued, they continue to command multi-billion valuation. Price discovery has happened; the market just disagrees with you."
Price still in downtrend
While the XRP market may be maintaining a multi-billion-dollar valuation, that's not to say that the asset isn't trending lower over time.
Brandt shared the chart seen below in March, noting how it looks as though there is no macro price support for XRP in the current range. Referencing how the asset could plunge lower without catching a bid, he remarked::
"I am breaking a promise. I said I would never again post a chart of XRP. But, I thought you all might be interested in what it means to have … 'white space below'."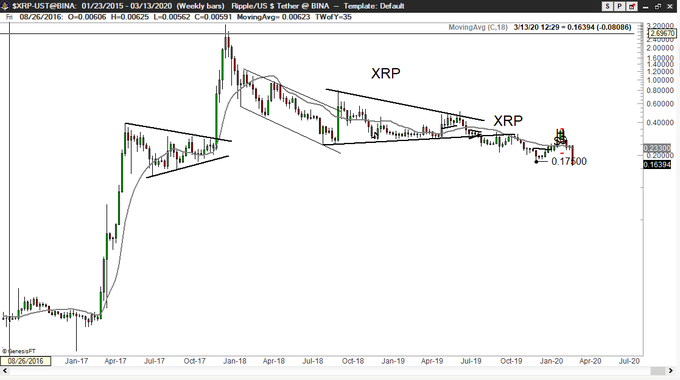 XRP price chart from trader Peter Brandt
Adding to the expectations of the downside is the inflation of the cryptocurrency.
According to Florent Moulin — part of the research and product team at crypto research firm Messari — the inflation of XRP's circulating supply over the past 12 months was 20 percent. This is five times that of Bitcoin pre-halving, and 10 times that of BTC post-halving.
The large quantity of XRP being thrust into the market might be depressing its price action relative to other cryptocurrencies, Moulin strongly implied when he wrote the following in reference to the inflation data:
"Only 30% of XRP max supply has been distributed, vs 87.5% for BTC. BTC is up 20% since last year, XRP is down 47%."
Kyle Samani of prominent crypto fund Multicoin Capital (which has been publicly short/bearish on the altcoin) corroborated this narrative.
He told Bloomberg last year that the fact that so much XRP is being released onto the open market by Ripple and related parties is likely leading "savvy investors" to sell the cryptocurrency.