After days of consolidation, Bitcoin, Ethereum, and the rest of the crypto market have finally broken down.
The flagship cryptocurrency tanked from the $9,100 base to a low of $8,830 for a loss of 3%. Ethereum registered similar weakness, decisively slipping under $220 for the first time since the end of May.
While it is still early days for this leg lower, technical signs show the expectations of a further move lower are gaining credence.
ETHEREUM BEAR CASE GAINS STRENGTH
One crypto trader shared the chart below in the wake of ETH's drop under $220.
It shows that the cryptocurrency is about to fall below a technical trend level it has held since April. The chart also accentuates that the indicator the analyst is using is "inches from" crossing bearish.
Should the indicator cross bearish, that will be the first time since March 10th. This is pertinent as a bearish cross in the indicator preceded a 60% drop from $200 to a capitulation low of ~$85.
ETH price chart shared by crypto trader "Teddy" (@Teddycleps on Twitter). Chart from TradingView.com
Ethereum may also experience some weakness due to its seasonality.
As reported by this outlet previously, an analyst observed that the cryptocurrency experiences strong correction in the second half of years.
"If ETH follows its cycle this time then high of the year could be in & we've 6 month correction," the analyst who shared the chart below wrote.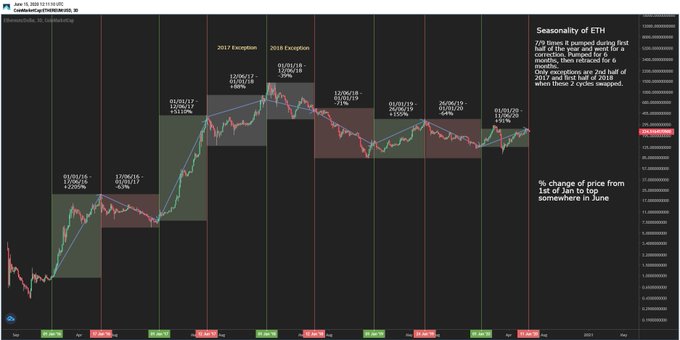 Ethereum price analysis by cryptocurrency trader 'Edward Morra' (@edwardsmorra_BTC on Twitter). The chart from TradingView.com
BITCOIN IS ALSO BEARISH, CORROBORATING ETHEREUM DOWNSIDE EXPECTATIONS
Corroborating the expectations of downside is the fact that according to technical analysts, Bitcoin is also bearish. With ETH trading with a 0.8 180-day correlation with Bitcoin, BTC crashing would almost certainly mean a similar retracement in Ethereum.
Blockroots' Josh Rager said that he thinks Bitcoin breaking below $8,900 will lead to a move to $8,500.
"BTC: Can we just break down to $8900 already. I still think price makes way to $8500 with some nice bounces in between," he explained.
Image Courtesy of Josh Rager. Chart via TradingView.com
Rager has also said that Bitcoin breaking below $8,500 will make this summer "long" for BTC holders. This is in reference to the fact that $8,500 has been the most crucial support level for the crypto market for the past two months.
Despite the bearish pressure in the short run, many remain long-term bullish on the crypto market.
On-chain analyst Willy Woo said that Bitcoin is likely to be thrust into a full-blown bull market in the coming month or two.
"This is a new model I'm working on, it picks the start of exponential bull runs. 1) Bitcoin was setting up for a bullish run until the COVID white swan killed the party. 2) This model suggests we are close to another bullish run. Maybe another month to go," he wrote.