Like the rest of the crypto market, coins pertaining to the decentralized finance space have faced a strong pullback over the past few days. Take Maker (MKR), for instance. CryptoSlate data indicates that the leading Ethereum-based coin has shed 9.5 percent in the past 24 hours.
There are cryptocurrencies that are strongly outperforming the pack, though. Two of these are Chainlink (LINK) and Band Protocol (BAND), which both have registered 20 percent gains in the past 24 hours alone after a strong retracement.
A fund manager in the space says that this recovery bodes well for the decentralized finance space, which in turn bodes well for the rest of the crypto market.
How LINK and BAND moving higher shows there are good things to come for Ethereum DeFi
Both LINK and BAND have surged higher by around 20 percent in the past 24 hours after both facing a strong retracement from the highs they experienced last week. LINK experienced a 30 percent correction while BAND experienced a 40 correction drop.
Kelvin "Spartan Black" Koh, a partner at the crypto fund The Spartan Group and a former Goldman Sachs partner, said on Aug. 22, amid the move higher in these assets, that this trend bodes well for the DeFi market:
"Oracles led the previous leg of DeFi rally on the way up and then on the way down. If today's move in $LINK and $BAND is any indication, the next rally for the broader DeFi space should follow."
It can be also be said that DeFi rallying has a positive effect on the rest of the cryptocurrency market.
Although it is hard to tell what exactly transpired, analysts attribute Bitcoin's leg higher at the end of July and the start of August to strong maturation in the DeFi sector, which sparked an influx of interest in the cryptocurrency market. 
On-chain and social trends suggest Chainlink and Band Protocol have further to rally
Both LINK and BAND have fundamentals suggesting they will continue their ascent.
For Chainlink, the asset has seen a spike in daily active addresses, implying an increase in investors in the market. Blockchain analytics firm Santiment reported in regards to the chart below:
"$LINK hit an all-time high yesterday in daily active addresses. This came in tandem with an #altcoin decline that sent it down to $13.49. Now back at $16.10, the classic bullish divergence that formed from an ATH in DAA is coming to fruition."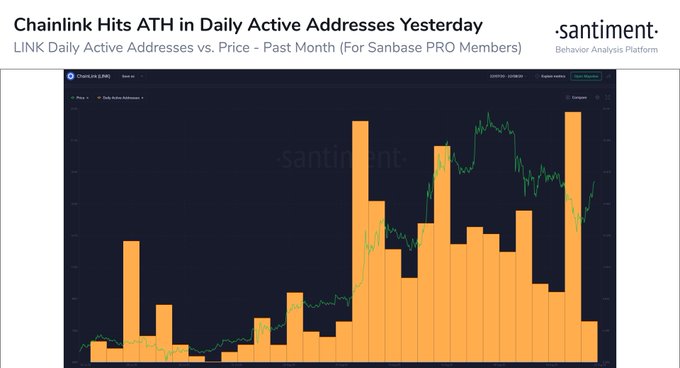 The same company noted just hours later that BAND has seen a strong uptick in social sentiment, presumably due to a number of recent partnerships. An uptick in social media activity for a cryptocurrency normally indicates there is an increase in the number of investors looking to purchase said asset.