XRP has gained approximately 50% in the past two weeks alone.
The asset now trades at $0.32 as of this article's writing, reaching highs not seen since earlier this year.
Analysts are not convinced that the altcoin continues to press higher despite the price action.
One trader says that XRP has the potential to drop towards $0.24, then $0.21, before heading higher.
XRP COULD DROP TOWARDS $0.21: ANALYSTS
XRP has seen a stellar price performance over the past few weeks. Following Ethereum's parabolic price trajectory, the altcoin has gained over 50% in the span of just two weeks. For the first time since June, it has crossed above the pivotal $0.30 resistance.
Bulls seem to decisively be in control, or so some thought.
According to a recent analysis by Michael Van De Poppe, XRP faces a drop towards either $0.245 or $0.212 as it presses up against resistances. Van De Poppe is a cryptocurrency trader who trades at the Amsterdam Stock Exchange.
"Buy the dip zones: $0.212 and $0.245. Next resistance zone if this massive one breaks: $0.40. I doubt we'll continue rallying, but I will be very satisfied to buy the dip," he commented in an analysis published August 6th.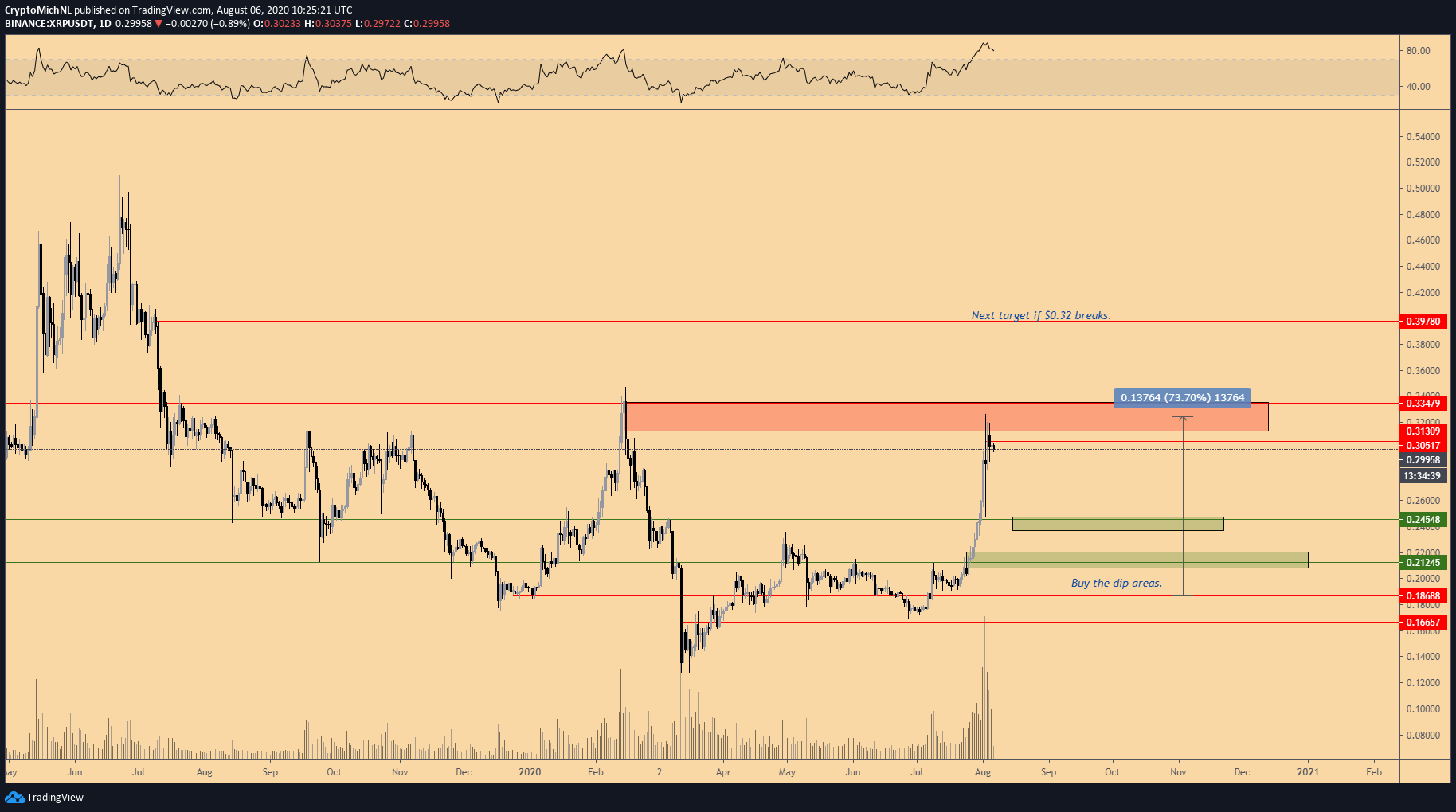 Chart of XRP's price action with analysis by cryptocurrency trader and writer Michael Van De Poppe (@CryptoMichNL on Twitter). Chart from TradingView.com
This comment comes shortly after XRP formed a "sell 9" candle on its daily chart, as per the Tom Demark Sequential. The candle predicts a multi-day retracement, though the last time this appeared, a rally followed.
ALTCOINS SET TO UNDERPERFORM, CERTAIN ANALYSTS SAY
Not all analysts are independently bearish on XRP in isolation. But are many commentators that think all altcoins are set to underperform in this market phase.
One trader commented on August 6th that at the start of Bitcoin's last bull run, Ethereum was the only altcoin that outperform BTC early on in the cycle:
"After BTC broke out of a multi month ascending triangle in 2016 it started its uptrend similarly to now. We can see how ETHBTC rallied, but XRPBTC (and other ALT/BTC pairs) suffered. The other ALT/BTC pairs went down 30-50% and only rallied later."
This makes sense: when Bitcoin is volatile, all focus falls on BTC's price action, not that of altcoins.
Nik Patel, the author of a popular cryptocurrency trading book, recently went as far as to say that altcoins may underperform Bitcoin until a new all-time high:
"Wouldn't surprise me to see dominance now rise until BTC all-time highs (pending a confirmed Weekly breakout above $10,600) > break $20k and alts find another bottom (like Nov/Dec 2016) > they rally concurrently like March-June 2017."
How exactly XRP is affected by this narrative, though, is not clear. The cryptocurrency could theoretically rally independently of other altcoins due to its unique fundamental or technical trends.