Have you been contacted by XRP giveaway promoters? Most likely, it is another scam
XRP Forensics, the analytical team tasked with the security of XRP Ledger transactions, including preventing and tackling all sorts of fraud, is calling for victims affected by the recent "doubling" scam giveaway. See the address below and check whether your funds were transferred to this wallet.
Analysts: XRP scams are on fire
According to a recent announcement made by the XRP Forensics team on Twitter, the pre-Christmas days were marked by massive scammer activity. Researchers ask all XRP enthusiasts to report scams they see on the internet via the project website.
In particular, XRP Forensics is interested in obtaining information from the victims of one recent scam. All of those who sent money to the address on XRP Ledger ending with the symbols "8xqZqH" are urged to contact XRP Forensics as soon as possible.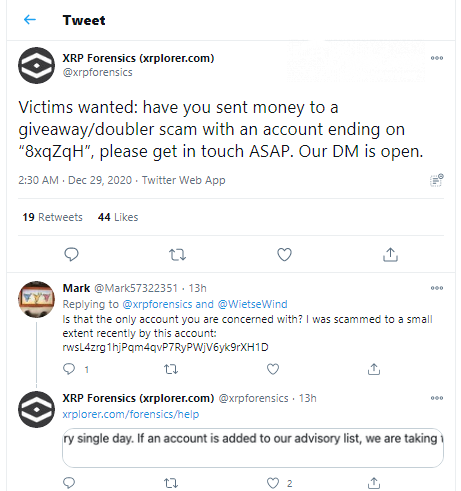 Image via Twitter
Reports should be made via direct messages to XRP Forensics' Twitter account. Also, the team reiterated that all accounts involved in doubler/giveaway frauds have been put on their "advisory list."
As covered by CryptoComes previously, XRP Forensics has proven its effectiveness in combating XRP-related frauds.
In September, XRPLorer, the founding entity of XRP Forensics, helped scammed XRP holders to restore their funds. They disappeared from the tampered Ledger Nano X and were sent for laundering to the ChangeNOW exchange.
XRP giveaway: old, but still dangerous, scheme
The fraudulent XRP giveaway is the most popular scenario for an attack on XRP Army soldiers. Typically, the malefactors hijack a Twitter, YouTube, Medium or Telegram account and start spreading the word about an alleged "giveaway" of XRP tokens.
Scammers often impersonate Ripple's Brad Garlinghouse and Chris Larsen, but sometimes they launch "giveaways" on behalf of Elon Musk, Bill Gates or even Donald Trump.
They claim that every XRP sent to a specific address will be immediately doubled. Many investors are gullible enough to fall for this primitive scam. According to some studies, daily profits from running this type of fraud are over $60,000.