It's been a tough month for holders of the XRP cryptocurrency.
In the past 30 days, Bitcoin has rallied 5%, Ethereum has surged 20%, and a majority of cryptocurrencies have registered gains somewhere in between the two. In contrast, XRP has actually slipped 5% lower over that same time frame, failing to be buoyed by a hot altcoin market.
A number of top analysts expect this underperformance to continue, pointing to clear technical signs that the altcoin is far from bullish.
XRP'S CHART ISN'T LOOKING TOO HOT
Against Bitcoin, XRP remains above the year-to-date lows by a handful of percent, but this may not last for long.
A top trader shared the chart below on June 5th, showing that the cryptocurrency is in a textbook "descending triangle" formation, marked by a series of lower highs and consistent retests of a low.
"XRP daily chart – Prepping for a new breakdown with this descending triangle forming," he remarked.
Descending triangles often break lower, and this one seems poised to do so as XRP nears its apex. Bitcoin formed a descending triangle in the summer of 2018, for instance, before plunging 50% lower by the end of the year.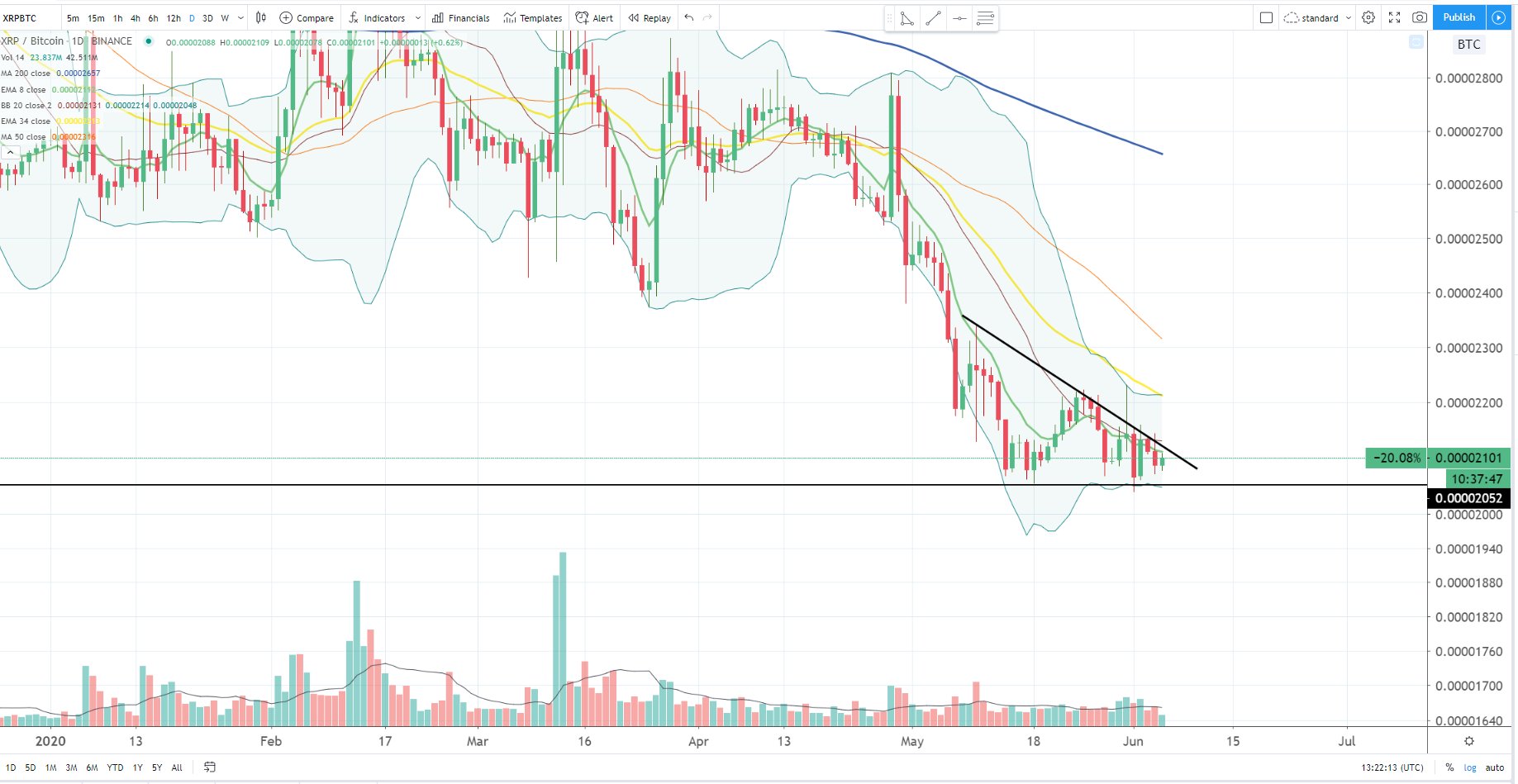 Bearish XRP (against BTC) chart shared by cryptocurrency trader "Cheds" (@BigCheds on Twitter).
Other analysts echoed the expectation that XRP could have a grim path ahead of itself.
He did indicate that the asset could flip bullish if it closes above the green level indicated on the chart below, but asserted that the cryptocurrency is still in a downtrend that will result in a 50% price drop.
"I will trade XRP vs BTC when it shows strength. Any weekly close above green and I'm interested. Until then who knows what can happen, currently down 91% since ATH but has seen 95% drops before, which is close to another 50% drop down. Move slow," he remarked while pointing to the below chart.
Image Courtesy of crypto trader "Ethereum Jack"
ODDS ARE STACKED AGAINST BULLS
The truth is that the odds are stacked against XRP bulls — and buyers of altcoins as a whole.
According to Florent Moulin — part of the research and product team at crypto research firm Messari — the inflation rate of the cryptocurrency is much higher than that of other digital assets.
He said that the inflation rate of the asset's circulating supply was 20% over the past 12 months, five times that of Bitcoin pre-halving.
Investors say that the high levels of inflation are inflicting bearish pressure on XRP. Kyle Samani of Multicoin Capital told Bloomberg last year:
"The company has been steadily increasing their sales of XRP over the previous three quarters, likely inflicting downward price pressure on XRP. Savvy investors have known this for some time; however, for whatever reason the market is just now picking up the narrative and reacting."