Amidst massive delisting campaign, a number of services refused to cease XRP trading.
Following the recently disclosed SEC action against Ripple and its two key officials, Brad Garlinghouse and Chris Larsen, many crypto exchanges decided to cease XRP trading. With this measure, the services hope to avoid punishment for illegal securities trading. However, some platforms have no plans to delist XRP.
Who wants to go up against the U.S. SEC?
One of the largest Australia-based crypto trading platforms, BTC Markets, explicitly refused to delist XRP token. Meanwhile, its team is monitoring the SEC lawsuit against Ripple.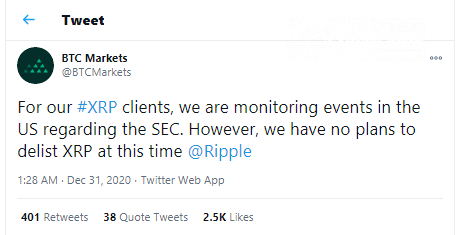 Image via Twitter
This statement was made via the official Twitter account of BTC Markets. The platform representative stressed that a number of customers asked the company to clarify its position on the issue.
Also, Bittrex Global came out with a similar statement. The Liechtenstein-incorporated service even highlighted that crypto-to-fiat conversion with XRP will continue:
Please note that Bittrex Global has no plans to delist $XRP and will maintain all #XRP markets: BTC-XRP, USD-XRP, USDT-XRP, ETH-XRP, EUR-XRP.
Blockchain journalist David Gokhstein has added that Uphold multi-purpose crypto service will also not halt XRP trading.
When decentralization matters
At the same time, many exchanges have already delisted XRP. Bitstamp and Crypto.com were the first platforms from the top league to cease XRP trading.
However, decentralized (noncustodial) trading instruments are not scared by regulatory pressure. XRP Toolkit, an XRPL-based decentralized exchange, underscored that XRP trading will be accessible through this service.
Image via Twitter
XRP Toolkit allows XRP trading for many noncustodial services like Ledger, Cobo, XUMM and others, with more platforms to come.
As covered by CryptoComes previously, the U.S. SEC is suing Ripple, Brad Garlinghouse and Chris Larsen for violating investor protection legislation by selling unregistered securities in the form of XRP tokens. The net amount of sell-offs may surpass $1.3 billion in equivalent.