With a weekly volume of less than $ 900 million on Bitfinex, it was very quiet last week in Bitcoin country. After the sudden price drop, the price has hardly changed and price movements have been limited to $ 50-100. Although the price has dropped again today and has come under the support of the 50 ema, the price has immediately found its support on the $ 3,750. In figure 1 I have shown with the pink line how the resistance level of $ 3,750 of the past weeks currently supports the course as it did five days ago.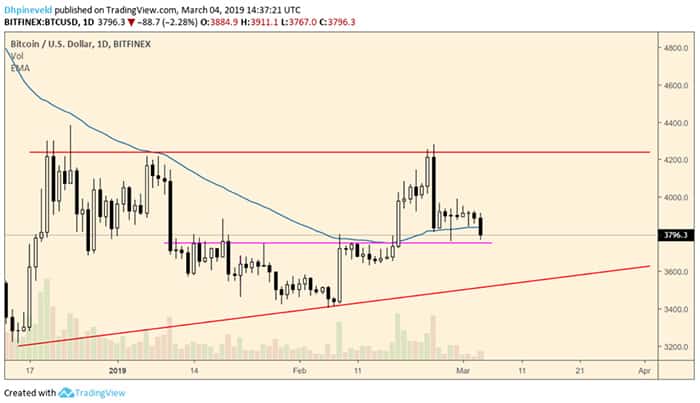 Daily chart bitcoin with 50 days EMA
Although the entire climate and the current weakness in the price are bearish, I still stick to the long position. There is of course a lot to be said for the fact that there appears to be a bear flag on the daily chart and also on the weekly chart the momentum indicators are starting to turn bearish. Yet I see some positivity in all this disaster and that is mainly because there is almost no strength in the fall of recent days and we are still on support.
It is true that the bulls do not show at the moment but at the same time the bears do not have a grip on the course either, while we are still in a bear trend! In addition, the price of bitcoin (BTC) has also made increasingly higher lows in recent weeks and there seems to be an ascending triangle (a bullish pattern). Although I am moderately positive, I am of course extremely cautious and I do not fall into naivety. The trend is bearish and long positions need to be treated very carefully.
However, the current course setup with matching patterns offers good tools to navigate through this uncertain climate. If the price falls by the support of $ 3,750, I will gradually reduce my long positions from $ 3,690 in order to limit the risks. If we lower the support to $ 3,750, the chance is relatively high that we will see a test of the rising red trend line.
This corresponds approximately to a price level of $ 3,500. If we go through this then it is all hands on deck and I will probably close all long positions but this depends on the volume and speed of the price decrease. Because the downside is pretty clear at the moment, the volume is low, the daily RSI oversold and we are on (even though he is wafer thin!) Support I'm going to give the bulls a chance! Coming week I do not think it's as boring as this, because which way we go, as soon as the course makes a choice the volume will increase rapidly!