The week is already over and the exchange rate is still exactly under 50 ema. Almost nothing happened last week. The volume dry and the price fluctuated exactly below $ 3,700 on Bitfinex. In the last few months we have experienced a sharp decline again and again after these moments and although the chance is very present that this is happening again I give the bitcoin price (BTC) the benefit of the doubt. There is a strong case for the idea that we are going to experience a decline in the coming weeks and perhaps a new low, but I think the current bull flag formation on the daily chart will get the upper hand.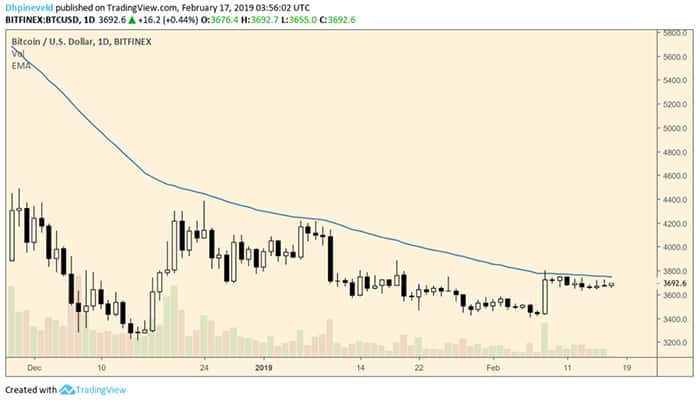 Daily chart bitcoin with 50 days EMA
The diagram above clearly shows how the exchange rate rubs against the 50 ema but also how a bull flag formation has formed. This bull flag should also break out soon, because the longer this takes care of, the more the strength of this formation will decrease.
From a trade perspective, this is actually a fairly good position to go short. The exchange rate has just made a big jump and the strength is out of this short rally and the race is also against a strong resistance. A well-known saying is "sell resistance and buy support" and that makes sense because often a strong resistance or support level is not simply broken. This situation in particular ensures a good short position because the stop-loss can be very well defined (just above 50 ema) and a first profit target would be around $ 3,500. Nevertheless, as I said earlier, I believe that we will break up. After months of decline the market is ready for some positivity and a break through the 50 ema is almost inevitable in my view. The exchange rate is so close and from personal experience I notice that the exchange rate often (even if only for a moment) will explore the top of such resistance. Since this level is an excellent position to go short, that is not a good place to go long. Regardless of the fact that I think we will continue the previous leap forward, it is in no way justifiable to go long at this level. A long position could be opened just above 50 ema because, as we often see, resistance in support changes after it is broken successfully. In the meantime I have gone long a few weeks ago (as I described earlier) when in my view we were on support. From that position it is wise to keep this position, but I would never open it myself at this level. After I have experienced another week of standstill, I expect more action this week. I hope so anyway and we will know if the 50 ema is crushed or that this wall was too strong. Until next week!