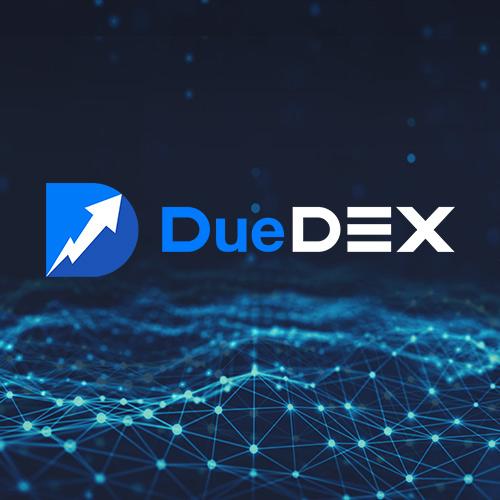 An upcoming crypto derivatives trading platform, DueDEX has just announced the official launch of its mainnet. With the launch of this platform, DueDEX looks to empower crypto traders around the world through fair trading of crypto derivatives.
Hong Kong, August 6th 2019, DueDEX, a crypto derivatives trading platform built around fairness and transparency, is pleased to announce the official launch of its mainnet. With the launch of this platform, the company promises to make crypto derivatives trading safe and fair like never before. Initially, DueDEX will offer BTCUSD Perpetual Swap contracts.  Starting with crypto derivatives exchange, the ultimate goal for DueDEX is to create the next generation of financial systems. 
A crypto derivative may be defined as a financial contract between multiple parties that derives its value from a cryptocurrency. To be more specific, it is an agreement to buy or sell cryptocurrencies at a predetermined price and a specific time in the future. Though this market has immense potential, its growth has been plagued by factors such as overload, frequent downtime, and unethical trading practice by certain platforms.
DueDEX was created with the intention of addressing the concerns traders face in the current crypto derivatives market. This fair-trading platform derives its name by combining the words Due, Derivatives, and Exchange. The company's founding team is made up of startup veterans, tech geniuses, crypto financial professionals, and trading talents.   
"Before the start of DueDEX project, we have visited many investors, individual traders and professional institutional traders. We listened to their opinions and suggestions, and finalized our value proposition, which includes fairness and transparency, security and safety, reliability and efficiency, and deep liquidity," said Bo Wang, the Co-Founder at DueDEX.  
DueDEX will offer Perpetual Swap contracts, an innovative derivative product that trades like spot and is also similar to traditional futures. However, there is no expiry date. Therefore, the traders will be able to open or close a position whenever they want.  The platform will offer up to 100x leverage, and use fair price based on the weighted average of the latest index prices from mainstream spot exchanges. The mechanics of funding at DueDEX will ensure that the underlying index price will be tracked closely by the price of the Perpetual Swap contracts.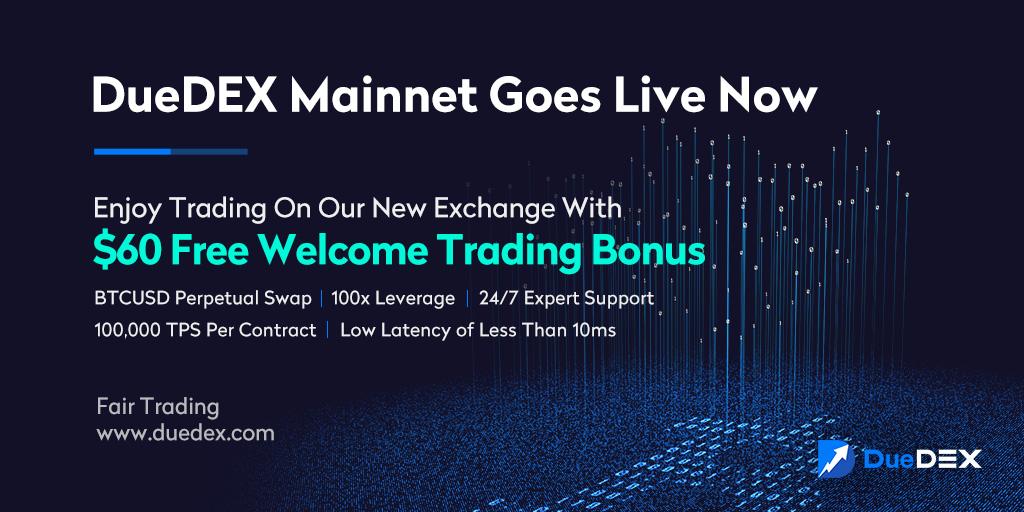 Mentioned below are some of the most important advantages of crypto derivatives trading at DueDEX.
All assets will be in cold storage with multi-signature. Cold wallets are fully offline, and not accessible from the platform servers or internet.

All withdrawals to be audited by multi-layered human auditors 

Two-factor authentication for an extra layer of security to user accounts and protection against sensitive operations such as logging in, generating API keys, and withdrawal

All communications between DueDEX and users are fully encrypted with SSL.

All rules, formulas and fees are open and transparent

High throughput with over 100,000 TPS and low latency of less than 10ms

An Insurance Fund to protect customers from loss in extreme cases

Unique Fair Price Marking mechanism to prevent users from falling victim to manipulations

Two-tiered lifetime highly rewarding affiliate program (30% direct commission+10% sub-affiliate commission)

Low transaction fees and high maker rebate rate

24/7 multilingual and multi-channel customer service
As part of the launch of the platform, DueDEX has started offering one-time Welcome Bonus up to $60 to all newly registered members to help them start trading right away. 
More about DueDEX can be found at https://DueDEX.com/
About DueDEX: Registered in Belize, DueDEX is a fair crypto derivatives trading platform. The platform offers Perpetual Swap contracts with up to 100x leverage. DueDEX is capable of high throughput with over 100,000 TPS and low latency of less than 10ms, providing 24/7 multilingual and multichannel customer service. 
Website: https://DueDEX.com/
DueDEX Twitter: https://twitter.com/DueDEX_Official
DueDEX Telegram: https://t.me/DueDEX_en_Official
DueDEX Medium: https://medium.com/duedex
DueDEX Facebook: https://www.facebook.com/DueDEXOfficial
DueDEX Reddit: https://www.reddit.com/r/DueDEXOfficial
DueDEX Steemit: https://steemit.com/@duedex
Disclosure: This is a sponsored press release.