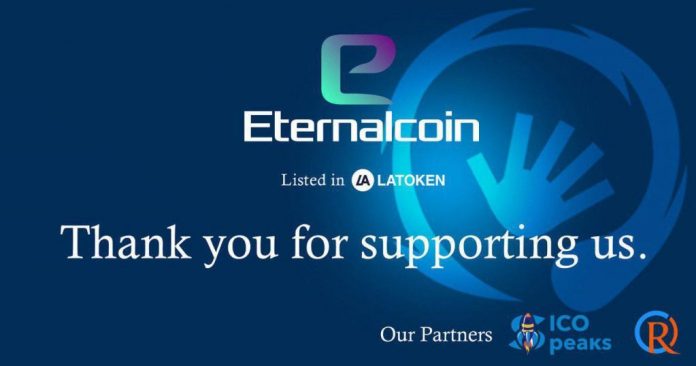 May 20th, 2019 –  London, UK – Eternal Wars is one of the top cross-platform card trading games, with over 10,000 downloads since inception, and now with its own cryptocurrency, Eternalcoin (EIS), on LATOKEN Exchange. Users will now be able to use the Ethereum-based token for secure in-app purchases and collect tradable cards with real-world value. Top cryptocurrency exchange LATOKEN will host the Eternalcoin Initial Exchange Offering (IEO) from May 20th, giving all participants the chance to buy the tokens, and mint, or trade the Eternal War cards.
War on Centralization
Eternal Wars is an epic trading card-based war game that allows players to pay for various cards that represent their character and powers. The cards are used to fight in different battle modes, such as Battle Royale, Clash of the Titans and PvP. 
The Eternal Wars developers realized that although the players spent a significant amount of money on in-game purchases, like the cards in Eternal Wars, ultimately the property is still owned by the developers. The players are only licensed to hold the cards. The gamers cannot claim the cards as their own, nor can they sell off the "license" for real-world money.
Seeing the situation players are faced around the world in nearly every game, the developers of Eternal Wars decided to launch Eternalcoin (EIS). The Eternalcoin ecosystem offers players:
Ownership: With Cards on the blockchain, players own their cards through EIS.
Card Exchange: Players can trade their cards with EIS.
Interest Free Exchange: Users can exchange their EIS for any other cryptocurrency, without paying for interest.
Monetary Value: With the rise in value of EIS, gamers will be able to use it directly for real-world purchases, just like any other cryptocurrency.
IEO on LATOKEN
LATOKEN is a UK based cryptocurrency exchange that has seen a large rise in popularity, and is now one of the top digital currency exchanges, due to its high security and liquidity option. Eternalcoin has chosen the exchange for this very purpose for their Initial Exchange Offering (IEO). The EIS will be available for investors on 20th May, with 195,000,000 EIS up for grabs.
This represents 65% of all the EIS ever produced. Available for 1 ETH = 6000 EIS, traders can use ETH, BTC, and LTC to acquire the tokens. The IEO will end on the 10th of June.
About LATOKEN
LATOKEN has a turnover of USD 3,000,000 per day. With low trading and withdrawal fee, the exchange helps new tokens to get into the market with its strict, but friendly listing criteria. The EIS IEO is the perfect example of the exchange helping upcoming tokens get a broader audience.
Learn more about Eternalcoin visit the site –  http://eternalinc.co.uk/
Follow Eternalcoin on Twitter – https://twitter.com/Eternalcoin1
Read about Eternalcoin on Medium – https://medium.com/@eternalcoin
Chat with Eternalcoin on Telegram – https://t.me/EternalcoinIEO
Find Eternalcoin on Facebook – https://www.facebook.com/eternalcoin/
Check out Eternal Inc on LinkedIn – https://www.linkedin.com/company/eternal-inc/about/
Media Contact Details
Contact Name: Kevin Mao
Contact Email: [email protected]
Eternalcoin is the source of this content. Virtual currency is not legal tender, is not backed by the government, and accounts and value balances are not subject to consumer protections. Cryptocurrencies and tokens are extremely volatile. There is no guarantee of a stable value, or of any value at all. Token sales are only suitable for individuals with a high risk tolerance. Only participate in a token event with what you can afford to lose.
Disclosure: This is a sponsored press release